New Hot Item! Clearing Saw Blade
Hi, Every one !
I'm Ryoji Seki.
This time, I want to announce very Hot New Item, MUSOU Clearing Saw again!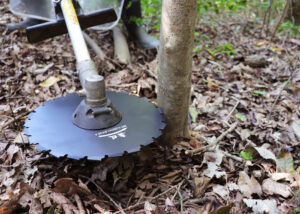 Some, people think this circular saw blade come again....
BUT this blade sell very well so before sold out, I want to reintroduce!
Let's review the character of this chisel blade.
Developing back ground
This blade was developed to solve the problem that people have to carry chain saws to cut small trees.
The character
・2 models - 24Tx225x1.8x25.4 & 26Tx250x1.8x25.4
・Special shape teeth
→1 chain saw style teeth having 2 sharp edges grab a tree strongly and cut sharply.
・Sanyo's original tooth setting
→At that time of buying, the blade have our original tooth settings so you can start to work right away.
And the tooth settings last for long time so you can keep great performance!
・Safety
→Passed the impact test of ISO 11806. So, you can work with peace of mind.
・Economical
→You can repolish the blade so you don't need to purchase blade again & again!
・General Purpose
→This blade can cut even small trees. In other words, you can work in almost every where with just this knife!   (26T - ~80mm, 24T - 70mm)
Very Good for these people...
・People who carry chainsaws to cut small trees.
・People who experienced tough situation with Pruning Saws.
Now, I received many orders.
So, before sold out, go to Sanyo's email address! → export-dept@sanyo-mt.co.jp