New Factory is Completed!!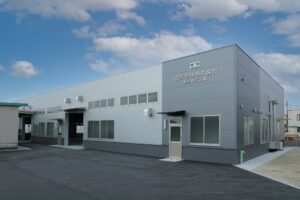 Hello, everyone!
This is Ryoji. How are you all?
In Japan, the climate become warmer and warmer. So, people start mowing gradually. How about your country? Please tell me in YouTube comment or e-mail!!
By the way, today I want to announce a big news.
That is finally, our new factory's construction is finished!
In the new factory, mainly bedknife, cutter for mowing golf course will be produced. (Before, its production line was in Tomoe factory)
Thanks to this new factory, work efficiency will be improved and I think we'll be able to handle the increased production like brush cutter (grass trimmer) blade and chisel blades!
We, team Sanyo will continue to do our best to meet your expectations.
So, I'm looking forward to your inquires!
If you have any questions or request, please feel free to contact us with this email address! → export-dept@sanyo-mt.co.jp
Thank you for reading.
Ryoji