2021.09.28 (Tue)
NEW PRODUCT
KURUKURU BOWL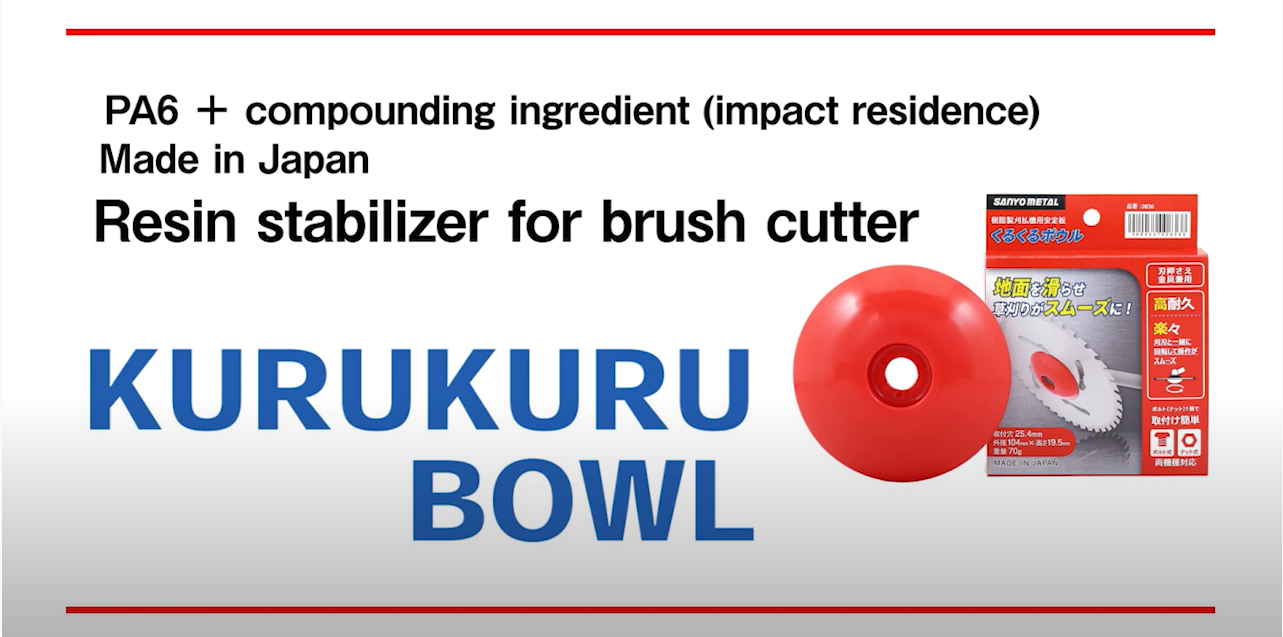 Hello, every one!!
I'm Ryoji from Sanyo who make garden blades like brush cutter blades and TCT saw blades.
How do you use brush cutters in daily life?
I think many of you use them by lifting off the ground.
BUT if you use KURUKURU BOWL, you can cut the grass very easily and smoothly by sliding the brush cutters on the ground!!!
Available for 
Brush cutter blades having 25.4 mm (1 inch) center hole.
Characters 
1.

Easier and smoother cutting

- The dome shape makes you easy to handle brush cutters. You just need to slide  brush cutters on ground!!
2.

The small center hole

- It prevent from involving grass.
3.

Only 70g

- This is 50% lighter than metal parts
4.

High durability

- When compared to our other products, this product last 10 times longer.  (Made by PA6+tough material)
5.

Safe and Same cutting height

- This product keeps the height from ground to blade same so it prevents stone jumping and kick-back. Also, it makes beautiful lawns.
6.

Easy to attach

- Just use bolts or nuts which is used for brush cutter!1
How to attach
1. Remove bolt and blade retainer of brush cutter.
2. Attach KURUKURU BOWL on the blade's step (If you don't have steps, please attach the product by making sure the center holes of both products are aligned.)
3. Tighten the bolt with attached washer.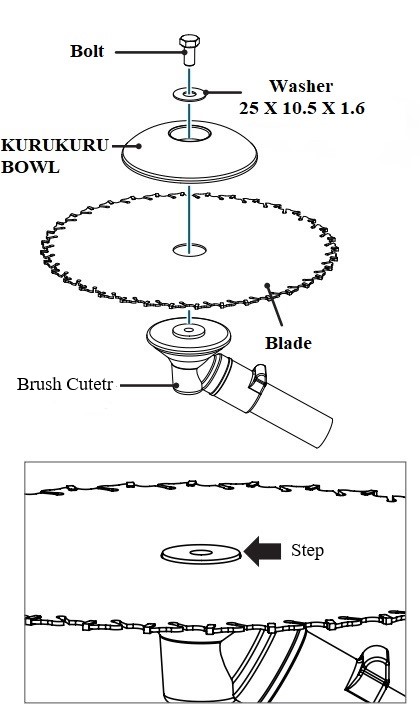 Recommendations for 
1. People wants to cut grass beautifully.
2. People wants to cut more easier and smoother.
3. People wants to use brush cutters safer.
If you have any curiosity, please feel free to contact to us!!
->export-dept@sanyo-mt.co.jp
Thank you