ZACT PRUNING SAW
This is SANYO METAL which is a manufacture of a variety of cutting blades for agricultural,
gardening and horticulture use as you already know!!
Today, we would like to introduce of our pruning saw"ZACT"
There are 3 kind of our saw blade.
Each is for "Forest", "Fruit tree" and "Gardening and Fruit tree" .
First, we will introduce the features common to these saws.
A common feature of Zact saws is "A ripsaw", "Hollow grinding" and "Impulse hardening".
・"A ripsaw"
Allows effortless vertical, horizontal, and diagonal cutting thanks to the use of rip blade.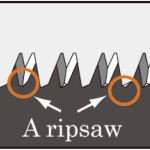 ・Hollow grinding
The polishing to reduce thickness at the center of a blade eliminates the necessity of alternate top bevels and
produces clean cut surfaces.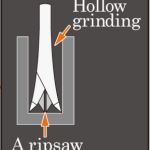 ・Impulse hardening
Impulse hardening produces ultra-hard edges.
As the surface is very hard, the sharpness lasts for a long time.