High quality and safe blades produced in the integrated production system within the company
As a manufacturer of cutting tools, Sanyo is dedicated to safety and make it a top priority with each product. In addition to impact testing machines conforming to ISO11806, we have in-house a number of testing facilities such as impact durability testing machines with a force of 5 kgf over 200h / 100,000 times, sharpness testing machines, and bend testing machines. We promise quality, safety and security with all of our products through our quality control system which is recognized by leading brush cutter makers all over the world.
Sanyo Metal Works conducts impact tests and other types of tests and inspections so that users can safely use our products.
SAFETY ALERTS
The 10th Excellent Product Safety Award for Companies in FY 2016, hosted by Ministry of Economy, Trade and Industry Commercial Distribution Safety Inspector's Award
Official organizations recognized the safety measures of Sanyo Metal Works.
Ministry of Economy has publicly asked companies who engage in product safety and strictly examined their product safety activities of entire company, then, the award is commended for the company's outstanding achievement in Product Safety Measure.
Award-Winning evaluation : Efforts for ensuring safety and quality through integrated system from development to production Efforts for providing the users with operating instruction and precaution Efforts for improving Product Safety with machine manufacturers.
Comments from president, Terumasa Gohonjo : We, Sanyo Metal, have been making efforts as a company who provides the customers with safe products and reliable service. To make it possible, we dedicate the development and manufacturing of high quality blades through educational activities and input of information for safety uses. We will continue making further efforts aiming the production of quality blades which everybody can use with safe and confidence.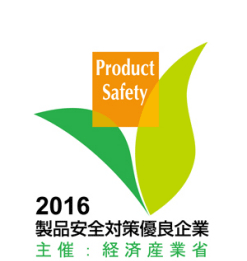 Integrated production system with the latest automatic production lines
FACILITIES
Production Facility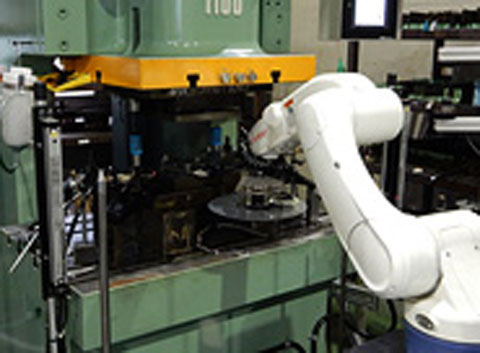 12 presses
10 automated feeding robots
6 machining centers
1 hydraulic press
1 laser machining system
1 laser engraving system
1 semiconductor laser sintering system
1 NC lathe
3 general-purpose milling machines
2 general-purpose lathes
1 shot blast
27 automatic trimmer blade edging machines
3 automatic cutting blade edging lines
3 square table surface grinders
2 rotary surface grinders
2 duplex head grinders
25 fully automated brazing machines
2 high frequency brazing machines for long items
5 T.C.T Blade polishing lines
Inspection Facility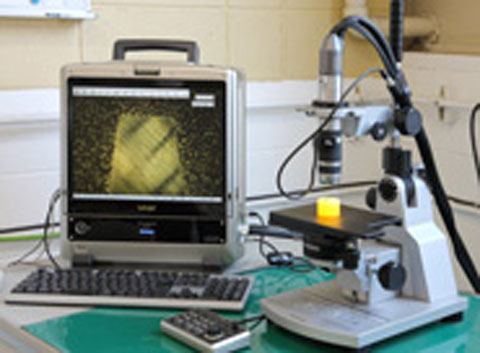 Three-dimensional measuring system (Mitsutoyo)
Micro Vickers hardness measuring system (Mitsutoyo)
3 Rockwell hardness measuring systems (Mitsutoyo)
Digital microscope VHX900 (Keyence)
Three projectors (Mitsutoyo)
Cutting performance tester
Magnetic defectoscope
Brazing strength measuring system
Oscillation tester
Over-rotation tester
Unbalance measuring system
Calking strength measuring system (for measuring the strength of head pins)
Bending strength measuring system (for ISO and JIS bending tests)
Thermal processing system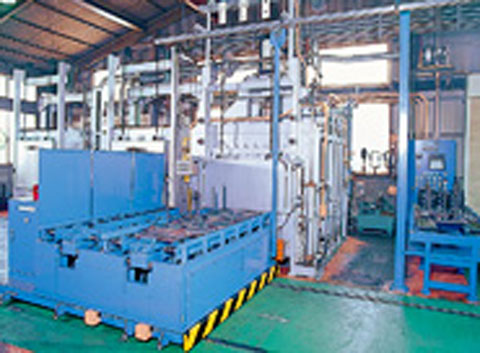 1 continuous quenching furnace
1 electric vacuum furnace with oil quench
1 electric pit-type quenching furnace
3 electric press tempering furnaces
1 gas press tempering furnace
1 gas tempering furnace
3 high frequency induction heating systems
Design Facilities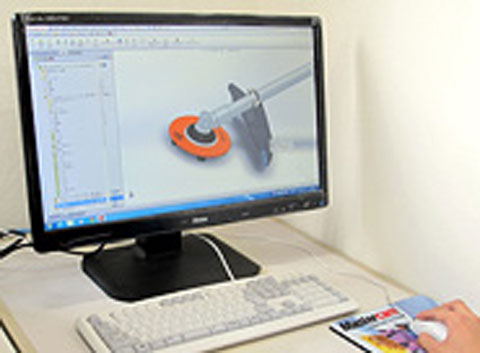 2 two-dimensional CADs
3 three-dimensional CADs